We at 3-D Cattle Equipment, LLC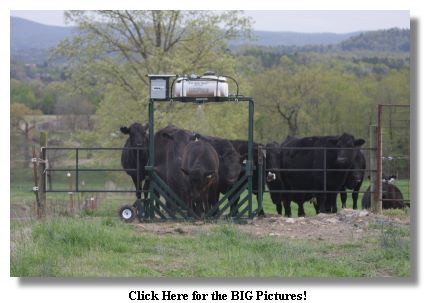 want to introduce you to the latest innovation in fly control technology;
the 3-D Quik Hand.
The 3-D Quik Hand is convenient and easy to use. Its safe and effective method of spraying provides no stress to your herd. Also, the 3-D Quik Hand is portable which makes fly control easy in any pasture. Its exceptional versatility and low maintenance makes 3-D Quik Hand the only one of its kind
The 3-D Quik HandTM (patented) Cattle Sprayer is the latest technological advance in fly control.
The unit is fully automatic, i.e.; you don't have to be present for the sprayer to work.


The sprayer is equipped with a 15 gallon tank. Spray is delivered thru (3) nozzles.
The 3-D Quik Hand is a free will travel sprayer, so the cattle do all the work.
Spraying is activated as cattle pass through the sprayer.
Spraying is limited by a five second shut off, i.e.; if a cow should stand in the sprayer for five seconds or more, spraying will cease until that individual moves out.
The 3-D Quik Hand also senses direction of travel through the opening of the sprayer, because of the sprayers ability to sense direction it will only spray as the cattle pass in one direction. (For example: If set in a gateway leading to a water or mineral source spraying wouldn't occur until the animal leaves the source, exiting through the sprayer opening.)
The sprayer is also equipped with a counter that tracks the number of exits.
Two expandable gates that will close off up to a 16 foot opening.
Place the sprayer in a gate or opening leading to a water or mineral supply, then let your cattle get used to traveling through the sprayer until they are comfortable as using as a gate. The step following comfortable travel through the sprayer is to simply turn on two switches then go about your business.
When the fly problem is gone just turn the switches off.
The 3-D Quik Hand is completely portable and adapts to a 2 inch ball.
Refill tank by pumping fluid from refill container to sprayer container.
Click Here to Learn More About the 3-D Quik Hand!
WARNING!
USING PRODUCTS CONTAINING
XYLENE
MAY CAUSE DAMAGE TO PUMP!